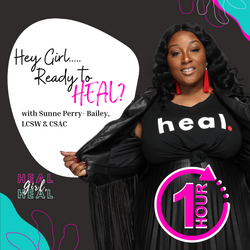 Book Your Healing Reset
Hey hey… Your spiritual & mental wellness is important! 

If you know you've been housing hidden hell that's impacting how you show up, & robbing you of your peace, I need to holla at you.   
It's time to stop shrinking and engage in a conversation, that moves you into conversion. Although I am an old soul and my phone ministry game is where it's at, you can connect with the Whole Healing Homie, via zoom. This is an hour of actually of release and reframing.
Maybe you need a neutral faith based ear to listen….I got you. You need to clear the air to receive clarity on your next healing step or move to make in general?….I got you….Need prayer or encouragement from an authentically  Hood, Holy, and Healing vibe... I got you! If you've been tripping and you know you need an accountability checking… I definitely got you.
Let's calm the chaos for a moment so you can reset and refocus.  
Includes:
-50Min  1:1 coaching session 
-Brief/laser focused strategic plan for your next step in your healing journey that aligns with your ideal goal
-Prayer (because without HE there is no HEALing) Optional
Must be scheduled within the 7-10 business days after payment unless schedule is full or days are unavailable.  No refunds. No refunds on no shows. Cancellations must be notified 24hrs in advance.
You will receive a link to schedule your appointment after payment is complete.  Simply click DOWNLOAD and you will be redirected. 
Disclaimer, although I am a  licensed mental health professional this is not a therapy agreement.  Please note, if you are having thoughts or harming yourself or others, contact your local crisis line, the National Suicide Prevention Hotline  988, ( or 1-800-273-8255) or report to your nearest  emergency department.